Seduced By A Cougar
SUBSITE OF NAUGHTY AMERICA
MrX Score
85
Discount
77%
Main niches:
Mature
Hardcore sex
Pornstars
MILF
Big Tits
Blowjob
Asian
Latin
Ebony
Curvy
|
Review published on: September 8 2017 – Last update: September 8 2017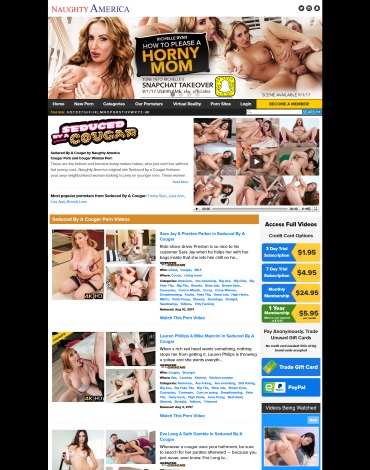 Seduced By A Cougar, which comes into existence courtesy of the well-established and quite respected Naughty America, promises to bring you hot cougar action, with seduction happening stealthily under the guise of normal, daily interactions with the young men who work all sorts of jobs, from training dogs to carpentry. Quite an interesting premise, you'll have to admit, so let's dive right into the thick of things.
12 Months:
$
/mo.
[$71.40]
1 Month
: $
24.95
[Recurs at $24.95/mo.]
7 Days Trial
: $
4.95
[Rebills at $19.95]
3 Days Trial
: $
1.95
[Rebills at $24.95]
| | | |
| --- | --- | --- |
| | Content Exclusivity | 100% |
| | # of Videos | 358+ |
| | Video Resolution | 4K 2160p |
| | Average length | 40 min |
| | Photo Resolution | 1333×870 |
| | Pics per Set | Avg. 150 |
| | # of Models | 2197+ |
| | Content Updates | 1+ montly |
| | Download | no limit |
| | Navigation | Site design |
Seduced By A Cougar Review
The style of Seduced By A Cougar
Just like Naughty America in general and Naughty Office in particular, Seduced By A Cougar manages to hit the focus sweet spot, where the porn itself is not compromised by an obvious dedication to technical, production, and style excellence. Tongue-in-cheek 'reality porn' absolutely comes into it's own here, with significant amounts of highly enjoyable set up before the actual hard-core fucking starts, and once the sex starts, it maintains that excellence throughout. Clear dedication to the customer's individual and personal enjoyment is quite obviously Naughty America's and Seduced By A Cougar's first principle. All that said, if you don't enjoy story in your porn, you'll to look elsewhere, or at least skip to the actual hard-core content. I just think you'll be rather missing out. Seduced By A Cougar deserves all the same style praise that I heaped on Naughty America as a whole, without any exception. Their signature style is put into clear practice on this site.
Simple video trailer on Seduced By A Cougar
Things are mostly good with Seduced By A Cougar, so I'll knock out the bad first. Updates are inconsistent, averaging at about one and a half to two new clips per month. That's not great, and there's no real schedule to them either. Further, even at this library size, pagination could use improvement, and there's no way to post comments on the content. On the other hand, each video comes with an entirely acceptable gallery, there are no download limits, and they've been rolling out 4K for a while now. The library is somewhat over four hundred clips at the time of writing, and you have access to rating, favorites, and tags. It's not the best mix I've ever seen, but still it's pretty good. And on top of all that, you get access to Naughty America as a whole.
/ Toll-free 24/7
Live Chat
eMail: billingsupport@epoch.com
Flash: 1080p
4K Ultra movies are also now available for download at 4096X2160 2900k! Movies can be resized in browser. Formats are for latest movies and multiple bandwidths/mobile formats are available; older movies may have smaller and varied specs.
MP4: 4K 2160p – 29000kbps
Jpeg: 1333×870 – >200KB
Zip sets: 15-20MB



What I like
Excellent, Naughty America style 'reality porn' that manages to skimp on neither content nor lead-up.
A 400-strong and growing library of clips and galleries.
Galleries are perfectly serviceable, with 100 photos of average resolution (though to see full resolution you'll have to download them).
The library is properly exclusive, as I'd expect from Naughty America.
Access to the rest of Naughty America is part of your standard membership.
Newer videos are in a full 4K already, and a larger part of the library is in proper 1080p full HD as well.
User tools on offer include ratings, favorites, and tags.
What I dislike
Limited pagination, no advanced search, and no commenting.
Updates have no set schedule and tend to be somewhat inconsistent.
Single features rating
Quality = Exclusivity&Direction + Resolution&Photography -

95%

Quantity = Overall quantity + Updates -

60%

Content Variety = Number of niches + Bonus sites -

80%

Usability = Navigation + Streaming&Download -

99%

Value = Offer VS Price -

90%
Overall rating
At the end of the day, Seduced By A Cougar is a fantastic site, with no problems even close to big enough to cause any issue with my recommendation, so long as those inconsistent updates do keep coming. So they earn that recommendation in full, and I'll also award them a score of 85%. Naughty America has hit another home run with this one, folks.