Bang Bros Network
NETWORK: 32 NICHE SITES
MrX Score
94
Discount
75%
Main niches:
Reality porn
Hardcore sex
Pornstars
MILF
Teen
Big Tits
Asian
Latin
Ebony
Interracial
|
Review published on: September 6 2017 – Last update: September 6 2017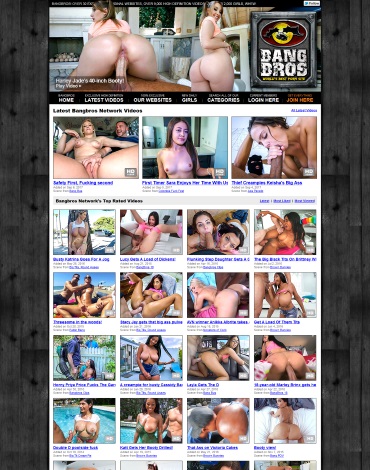 Today's review ought to be a treat, if all the hype falls into place, because I'm bringing you a look at one of the giants. That's right, today we're looking at one of the largest and most popular porn networks available today, Bang Bros themselves. Stick with me and I'll arm you with the knowledge you need to make a properly informed decision on this massive network.
12 Months:
$
[Recurs at $119.40]
1 Month
: $
29.95
[Recurs at $29.95/mo.]
1 Week
: $
4.95
[Rebill at $29.97/mo.]
1 Day Trial
: $
1.00
[Rebill at $29.97/mo.]
| | | |
| --- | --- | --- |
| | Content Exclusivity | 100% |
| | # of Videos | 8040+ |
| | Video Resolution | HD 1080p |
| | Average length | 40 min |
| | Photo Resolution | 2000×1333 |
| | Pics per Set | Avg. 125 |
| | # of Models | 3666+ |
| | Content Updates | 1+ daily |
| | Download | no limit |
| | Navigation | Site Design |
The style of Bang Bros Network
Bang Bros focuses on reality and gonzo genres of porn. There, the section's done! No, not quite, my friends. There's other stuff here, too, and with 50+ individual sites there better be. A small selection includes: huge cocks, handjobs, huge tits, big asses, oral, anal, latina and other ethnicities, threesomes, gangbangs, lesbians, MILFs and teens, and even more. They cover very nearly everything, certainly there's an argument to be made that Bang Bros covers all 'mainstream' porn, with their own gonzo lens or style over top of that. Add to that amazing breadth a set of frankly excellent production values, and you can begin to see why I few to no issues whatsoever with the style that Bang Bros has adopted as their own. While you won't find niche or specialty content here, for the most part, there are individual sites for that, and Bang Bros already has an amazing variety of content to worry about producing, maintaining, and making available for you to enjoy.
Top most-rated video on Bang Bros Network
Features and usability on Bang Bros are, frankly, surprisingly good for such a well-established mega site. A surprising number of the close to ten thousand clips in the library are in proper full HD, and everything here should be properly exclusive. Galleries are also excellent, though they don't have a separate section and some (not most) are merely vid caps. The network updates at least daily, though with 50+ sites, you may find your favorites wait a week or more. There's no advanced search here, which this library could really use, and there are recent reports of cancellation issues, so be aware of that. On the other hand, there are a number of sorting tools, tags, favorites, and more.
Bang Bros Network sites
Bang Bros Network is currently composed by 32 network-sites, each focusing on a specific niche.
What I like
Nearly 10,000 clips in the library here, spread across 50 different sites, each serving a different niche within mainstream gonzo/reality porn.
Excellent, 350 photo count galleries, at a frankly huge resolution that your monitor probably can't fully display yet.
Excellent user tools, including favorites, tags, sorting, and individual site browsing.
No download limits whatsoever, and clips are available in a number of formats optimized for different use cases.
What I dislike
No advanced search to be found here – and at nearly 10K clips, the library could truly use one.
No separate sections for galleries, meaning you have to seek them through the clips. Not all clips have one, and some are merely vid-caps.
At the time of writing, there is a possible issue with cancellations, so you should probably look into whether that's been resolved if you're reading this later.
Single features rating
Quality = Exclusivity&Direction + Resolution&Photography -

98%

Quantity = Overall quantity + Updates -

99%

Content Variety = Number of niches + Bonus sites -

98%

Usability = Navigation + Streaming&Download -

88%

Value = Offer VS Price -

85%
Overall rating
Bang Bros is not hard to recommend, at all. In fact, they're one of the easiest networks to give my full recommendation to, and they have it, so long as you're aware of the current, and probably temporary, cancellation issue that I've heard some grumbling about. Not only are they recommended, I'm also scoring them at 94% – these guys are well worth the money.